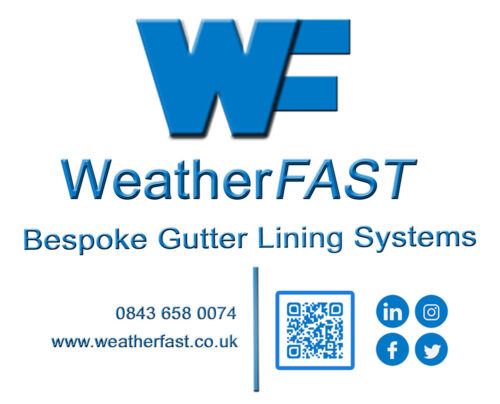 WeatherFAST was formed in 2013 with the aim to create a safer place for contractors, whilst working on roofing areas.​
Gutters are the main part of a building, collecting rainwater and debris, therefore, the last thing you need is a leak.​
That's why our exclusive Chequer Plate Fatra coated steel comes with a built-in 75 mm end lap, ensuring there are no mastic or tapes to rely on, just a single heat welded joint detail.​
Here at WeatherFAST, we supply one of the widest sheets in today's market at 1500mm x 3000mm in both 0.6mm or 1.2mm steel. Other sheet sizes available are 1000mm x 3000mm or 1250mm x 3000mm.​ You can watch the WeatherFAST FATRA coated steel in action on the Gutters in Motion page.
From this we developed our WeatherFOLD gutter liner, why would you want anything else? a material so heavily specified in the new build market but nothing quite like it in the refurbishment market. To see the WeatherFOLD gutter lining system in action, visit the Gutters in Motion page.

Our system has been developed to fold with ease into any existing gutter and once welded the system becomes seamless allowing water to flow freely towards outlets, with a steel base the liner can be heavily trafficked and easily maintained by simply brushing out.
Our bespoke WeatherFOLD gutter lining system evolved from this. A simple but highly effective system, WeatherFOLD comes in 0.6mm steel with our WeatherFAST/Fatra Chequer Plate membrane that is bonded together to provide a 25-year guarantee.​​ WeatherFOLD offers:
New improved tread pattern
Improved safety slip resistance
Trusted Fatrafol high quality PVC membrane
Single site weld isolated lap joint detail
Labour saving simple jointing
Reduced leak potential
Reduced installation time
Ensures consistency in installation
Define safer walking zones
System and accessories fully PVC
Approved installers scheme
Fatra approved inspection 25 year warranty
In today's new build market 90% of single skin/composite gutter systems are specified as membrane coated steel, whether it be our WeatherFAST Ltd Fatra UK coated steel or any of our competitors, without a doubt membrane coated steels are the choice materials for gutter systems.

WeatherFAST Ltd
Unit 2
Winster Grove
Great Barr
Birmingham
B44 9EG
T: +44 (0) 843 658 0074