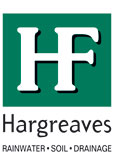 Hargreaves Drainage Premier cast iron rainwater product range provides complete rainwater solutions with traditional cast iron gutters, pipes and fittings.
Premier rainwater is supplied in a standard grey metal primer; Premier Extra delivers the same range in a black gloss painted finish ready for installation.
The Premier standard range comprises of seven gutter profiles and four round rainwater pipes, each gutter profile has an extensive range of fittings.
The Premier Sand-Cast range offers bespoke castings manufactured in our own foundry. These include large capacity gutters for design and use on churches, historic buildings and restoration projects. Also available are square and rectangular rainwater pipes in various sizes and supplied with or without ears. These can also be used with ornamental ear bands for decorative appearances.
Hargreaves has the capacity to deliver total rainwater disposal solutions, and offers competitively priced products and prompt delivery. All products are available nationwide through plumbers and builders merchants.
Hargreaves other cast iron drainage ranges can be viewed on our web site at www.hargreavesdrainage.com
Hargreaves product range also includes:
Premier Soil Pipes & Fittings BS416
Halifax Soil & Drain System BSEN877
Mech 416 Mechanically Jointed Soil System
Traditional Express Soil Pipes & Fittings
Hargreaves Drainage Limited
Water Lane
Halifax
West Yorkshire
HX3 9HG
Tel: +44 (0)1422 330607
Fax: + 44 (0)1422 320349