Page 1 - MGMA MRM Issue 01 final
P. 1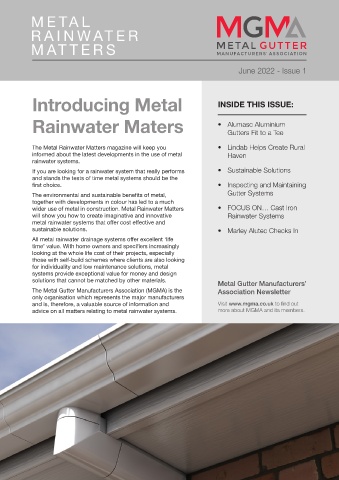 METAL

            RAINW ATER

            MATTERS



                                                                                     June 2022 - Issue 1




            Introducing Metal                                                 INSIDE THIS ISSUE:



            Rainwater Maters                                                  •  Alumasc Aluminium

                                                                                 Gutters Fit to a Tee


            The Metal Rainwater Matters magazine will keep you                •  Lindab Helps Create Rural
            informed about the latest developments in the use of metal           Haven
            rainwater systems.
            If you are looking for a rainwater system that really performs    •  Sustainable Solutions
            and stands the tests of time metal systems should be the
            first choice.                                                     •  Inspecting and Maintaining
            The environmental and sustainable benefits of metal,                 Gutter Systems
            together with developments in colour has led to a much
            wider use of metal in construction. Metal Rainwater Matters       •  FOCUS ON… Cast Iron
            will show you how to create imaginative and innovative               Rainwater Systems
            metal rainwater systems that offer cost effective and
            sustainable solutions.                                            •  Marley Alutec Checks In
            All metal rainwater drainage systems offer excellent 'life
            time' value. With home owners and specifiers increasingly
            looking at the whole life cost of their projects, especially
            those with self-build schemes where clients are also looking
            for individuality and low maintenance solutions, metal
            systems provide exceptional value for money and design
            solutions that cannot be matched by other materials.
                                                                              Metal Gutter Manufacturers'
            The Metal Gutter Manufacturers Association (MGMA) is the          Association Newsletter
            only organisation which represents the major manufacturers
            and is, therefore, a valuable source of information and           Visit www.mgma.co.uk to find out
            advice on all matters relating to metal rainwater systems.        more about MGMA and its members.