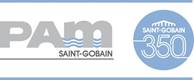 Saint-Gobain PAM UK specialises in the manufacture of cast iron above and below ground drainage systems and both cast iron and steel rainwater management systems.
Quality manufacturing
With access to worldwide technical excellence and a large portfolio of products, Saint-Gobain PAM UK is able to combine the benefits of a global presence with the ability to tailor to local specification, to ensure they provide the highest standard of rainwater solutions.
Manufacturing at Telford is operated under strict quality management systems (BS EN ISO 9001:2008) and Saint-Gobain PAM has been awarded the 'manufacturing to Environmental Standards' accreditation BS EN ISO 14001:2004.This standard was developed to help manufacturers maintain and improve their management of environmental responsibilities and assist them in ensuring compliance with environmental laws and regulations.
Product ranges 
Cyclone galvanised steel rainwater system
Cyclone complements any domestic or commercial building, large or small, traditional or modern. Cyclone is the ideal rainwater solution for the discerning self-builder, from timber-framed houses to commercial buildings such as supermarkets, industrial units and warehouses.
Cyclone combines proven environmental qualities with practical benefits to provide a high performance rainwater control solution for all types of buildings. Cyclone has a low carbon footprint which makes it the ideal choice where sustainability is a key requirement. Cyclone at the end of its natural life can itself be totally recycled further underpinning its carbon footprint and whole life costing credentials.
Cyclone is competitively priced with plastic systems and more cost-effective when compared with aluminium rainwater systems. offering minimal thermal movement and UV stability, it will not crack, fade or leak, is highly resistant to corrosion and virtually maintenance free.
Cyclone offers vandal proof capabilities – the system downpipe fits closely to the wall and is robustly secured making it virtually impossible to either climb up or pull off the wall.
Cyclone is lightweight and easy to install; no special skills or tools required. The system has been designed to push, click and forget; no mechanical fixings or joints required.
Cyclone is:
Comparable in price to a mid-range plastic system
UV stable, will not fade blister or crack
Minimal thermal movement
Lightweight and very easy to install
Eco-friendly, sustainable and fully recyclable
Manufactured from high quality steel
Hardwearing and robust
Will last in excess of 40 years
Available in three sizes of gutter and downpipe to suit all building types
Available in four colours; black, white, silver metallic and dark grey, all with a finish guaranteed for 15 years
Classical cast iron rainwater system range 
Saint-Gobain PAM UK manufactures the Classical range of traditional rainwater and gutter systems designed in accordance with BS 460. Its standard ranges of half round gutter and circular downpipe system are also assessed and approved by British Board of Agrément Certificate 97/3434 (the only cast iron manufacturer with third party accreditation). 
The Classical range is
Fire safe. Cast iron is non-combustible and does not require any fire protection and will not emit toxic gases or sooty smog.
Longevity. When a building is modernised every 15 or 20 years, the cast iron elements along with structure will likely remain, and should last the life of the building.
Strength. High resistance to accidental impact damage, mishandling on site and vandalism.
Sustainability. Saint-Gobain cast iron systems are manufactured from 97% recycled materials (scrap) which are in turn 100% recyclable at the end of their extended life span of in excess of 50 years.
Classical
Cast iron rainwater and gutter systems to BS460
Eight gutter profiles and associated fittings:

Standard half round
Half round beaded
Deep half round
Moulded
Victorian OG
Notts OG
Box
Express half round
Circular, square and rectangular downpipe systems
Supplied in a black water based primer
Classical Plus
Rainwater and gutter systems supplied with a black semi-gloss painted finish for immediate installation
High performing polymer powder alloy PPA571 coating (average thickness 200 micron)
Significantly reduces labour time on site by 60%
Potential saving in scaffold hire.
Colours available to order.
Bespoke castings – Priced to order
Replica castings
Modified angle fittings
Large decorative gutters
Decorative RW heads
Dates
Emblems/ badges 
Timesaver heritage
Plain ended cast iron soil pipes and fittings to BS 416 part 2
Push-fit Heritage couplings

Traditional socket appearance
50, 75 and 100mm diameters
Plain, eared and slip versions
Easy to install compared to socket / spigot systems
Labour saving.
Services at Telford
Technical advisory
Advice and guidance on installation
Complete CAD drawing design and take-off
Detailed bill of materials (free of charge)
Saint-Gobain PAM UK Limited
Lows Lane
Stanton by Dale
Nr Ilkeston
Derbyshire
DE7 4QU
Tel: +44 (0) 115 9305000
Technical enquiries
Tel: +44 (0)1952 262529
Fax: +44 (0) 1952 262592
technical.soildrain.uk.pam@saint-gobain.com
www.saint-gobain-pam.co.uk/catalogue/our-solutions/soil-drain-rainwater/rainwater-gutter-systems